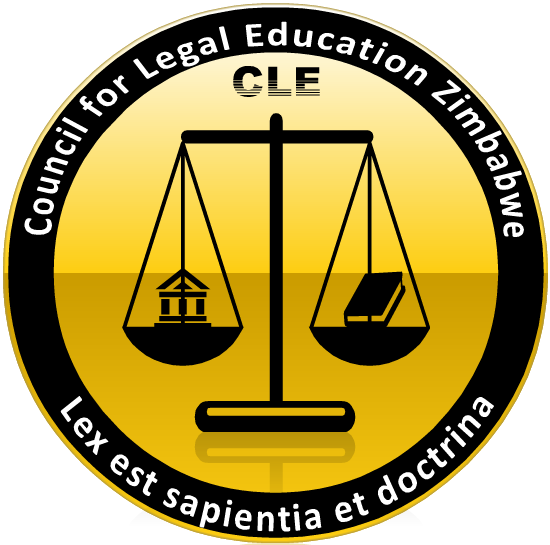 Contact Us
The Secretary
Council for Legal Education
7 Walterhill Road
Eastlea
Harare
Zimbabwe

Telephone: +263 4 788446/7
+263 8677172080/1
Are there any exemptions offered?

You may apply for exemptions if you are of the opinion that you have acquired sufficient experience in a certain subject that you feel that the writing of the conversion examination on that particular subject will not add any value to you. However, the ultimate decision to grant exemptions rests with the Council which may decide to grant or not to grant an exemption after having objectively assessed your application.

What is a designated Degree and/or University?

A designated degree is an LLBS qualification that is locally obtained and designated in terms of a statutory proclamation by the Minister of Justice, Legal and Parliamentary Affairs. This means that the holder of such a degree is not required by law to write bar conversion exams in order to apply for registration. Currently there are only two designated Law Degrees .i.e. University of Zimbabwe and Midlands State University Faculties of Law LLBS degrees.

A designated university on the other hand is a foreign university designated in terms of the law by the Minister. The Minister, at the recommendation of the Council for Legal Education, may change this list from time to time. Holders of qualifications from designated universities are qualified to register to write conversion exams and thereafter apply to register as legal practitioners. Currently Statutory Instrument 30C of 2007 provides a list of designated degrees and Universities.


I have just attained my LLBS degree and transcript from a foreign university, what next?

The first step in converting a foreign LLBS qualification in order for one to be registered as a legal practitioner in Zimbabwe is to approach the Council for Legal Education. The Council offices are situated at 7th Floor Century House East Building, 38 Nelson Mandela Avenue (between Angwa Street and Julius Nyerere way). You can go to the Contact US section to see the Council's contact details.

How is my degree Designated or converted?

You have to make an application to the Council indicating your intention to have your degree evaluated for purposes of designation and also indicate your intention to sit for the conversion examinations set by the Council. The Council will go through application and once a decision is made you will be notified of the outcome. You can download the prescribed application form from the downloads section.

Are there any tutorials or learning materials?

Currently, The Council does not offer tutorials in respect of the Bar Conversion Examinations. Students are only given syllabi outlines and past examinations papers for use in self-study. Council will soon be developing a set of training manuals which will be availed to students at a low cost for use in preparing for the Bar examinations.
What subjects are offered for purposes of Conversion?

The number and specific subjects to be undertaken by each application varies from one application to another. The Council has the prerogative the number of subjects and to be undertaken by each applicant. The Council currently offers the following subjects but these can be reviewed anytime taking cognizant of the changes in the legal system:
Common Law, Civil Procedure, Criminal Procedure, Evidence, Legal Ethics, Statute Law of Zimbabwe, Book Keeping (Trust Accounts), Conveyancing, Notarial Practice.

When are the exams offered?

Exams are offered twice every year: the winter session is held in June and the summer session in November. Registration generally opens four months before the dates of the examinations. It is however crucial and recommended for prospective candidates to submit their application early to avoid last minute delays in processing applications. Always visit our website to check if the registration process is open. You can also contact the Council Secretariat for further information.



FAQs
Designed by Morncliff Mudzvatangi
Council for Legal Education © 2018
COUNCIL FOR LEGAL EDUCATION
the wisdom of law is in learning