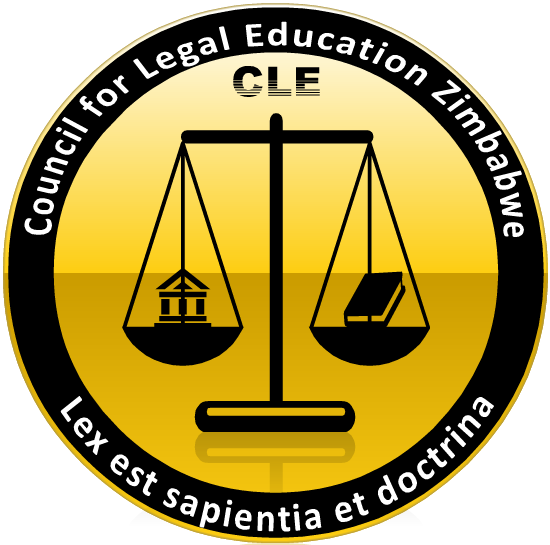 Contact Us
The Secretary
Council for Legal Education
7 Walterhill Road
Eastlea
Harare
Zimbabwe

Telephone: +263 4 788446/7
+263 8677172080/1
Degree Assessment
INTRODUCTION
Prospective candidates wishing to have their foreign legal qualifications designated by Council for Legal Education (CLE) as well as to write the conversion examinations should hold a Law degree that qualifies them to practice in the country in which they qualified. There are some technically inadequate degrees offered which need to be verified by the council before one can consider sitting conversion examinations.

DOCUMENTS REQUIRED WITH APPLICATION
Applicants should send in the following documents in the following order as hard copies addressed to the Secretary of the Council for Legal Education to the address No. 7 Walter Hill Avenue, Eastlea, Harare.


a) Application form with passport size photo appended (click here to download application form)
b) 1 Notarised copy of Birth Certificate
c) 1 Notarised copy of the National ID of the applicant
d) 1 copy Curriculum Vitae
e) 9 sets of Notarised LLB Degree certificates each with the transcript stapled to it.

INFORMATION FOR CANDIDATES INTENDING TO DESIGNATE THEIR FOREIGN LEGAL QUALIFICATIONS
All Copies must be fully Notarised with a Stamp stating that the copy is a True Copy of the Original signed and dated.
f) Deposit slip in the sum of RTGS1000 per subject. The banking details are as follows,
NAME OF BANK: CBZ BANK
ACCOUNT NAME: COUNCIL FOR LEGAL
EDUCATION
ACCOUNT NUMBER: 044 246 7599 0010
ACCOUNT TYPE: PRIVATE BANKING
SWIFT CODE: COBZZWHAXXX
BRANCH SORT CODE: 6115
ACCOUNT TYPE: FCAWMB

On the reference section of the deposit slip, write you Surname and Initial(s) and indicate payment is for CLE examinations.

THE COUNCIL DOES NOT ACCEPT ECOCASH AND DOES NOT HAVE A SWIPE FACILITY AT THE OFFICE. USE EITHER ZIPIT, INTERNET BANKING, CBZ TOUCH, MOBILE BANKING, RTGS - And attach the proof of payment which must be clear.


Copyright 2018 - Council for Legal Education
Designed by Morncliff Mudzvatangi
COUNCIL FOR LEGAL EDUCATION
the wisdom of law is in learning